Best organic essential oils 2020
Best essential oils for colds and coughs
Eucalyptus Oil
There are as many eucalyptus oil uses as there are eucalyptus tree species. Over a hundred!
Origin: Australia, China
Extraction Method: Steam distillation of leaves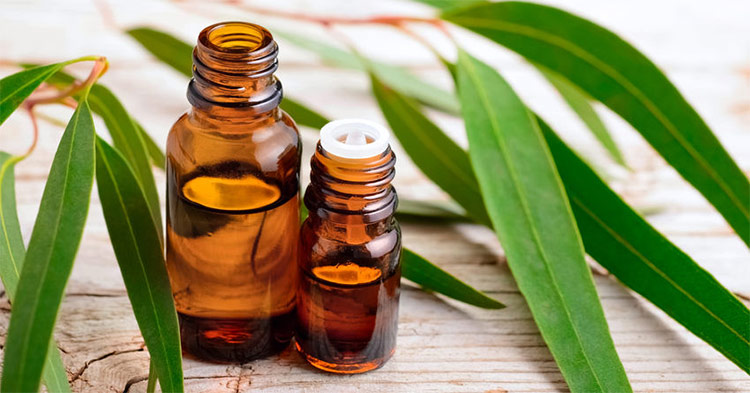 Uses: Highly antiseptic and beneficial to the lungs, eucalyptus oil should be diffused or used in a humidifier. A 2% dilution eucalyptus spray will kill 70% of airborne staph bacteria according to Jean Valnet, M.D.
It is one of the Best mucolytic/expectorant oils around. This means eucalyptus oil respectively breaks down and then helps remove mucus from the respiratory system. I am sure you can see the benefits to bronchitis, colds, sinus congestion and asthma.
Eucalyptus aromatherapy is also widely used as an insect repellent.
More Properties and Uses:
Antifungal – ringworm, candida
Antiviral – herpes, shingles
Anti-inflammatory – acne, rheumatoid arthritis
How to use eucalyptus oil:
The different eucalyptus plant species will direct some of their uses. For instance, Eucalyptus citriodora contains up to 85% citronellal which makes it the Best insect repellent. Eucalyptus globulus contains up to 80% Eucalyptol which makes it so effective for diffusing as an antiseptic but also has up to 15% Alpha Pinene which is a great anti-inflammatory. And Eucalyptus radiata is probably the most versatile and also gentle.
Application: Dilute 1 drop of eucalyptus to 1 drop of base oil and massage on location. Diffuse, use in a humidifier, or steam saunas ( most saunas have a compartment for oils).
Caution: It is cautioned in all the aromatherapy books not to use eucalyptus during pregnancy or if you are epileptic.
Reference: Essential Science Publishing. Essential OilsPocket Reference, 4th ed. Essential Science Publishing, USA.
Best essential oils for skin ageing
Melaleuca Oil
Melaleuca Oil – Tea Tree (Melaleuca Alternifolia)
Providing you use the Best grade, melaleuca oil is a must-have for your first aid kit!
Botanical Family: Myrtaceae (Myrtle)
Origin: Australia and France
Extraction Method: Steam distilled from leaves
How to use: Tea tree oil is a powerful antiseptic, stronger than many chemical disinfectants. It has a clean, medicinal smell and is very gentle to the skin. Besides its anti-bacterial properties, melaleuca is made up of constituents (molecules) that are anti-skin ageing, antiviral, antiparasitic, anti-inflammatory and anti-fungal.
Tea tree oil is good for ageing skin, cuts, scrapes, sensitive skin, skin infections, rashes, sunburn, athletes foot and nail fungus, ringworm, yeast infections, acne, mouth sores, cold and flu symptoms, and bronchitis.
History Captain Cook visited the Australian continent and his sailors used the leaves of this tree to make tea. The name stuck. Aborigines have used tea tree to heal wounds for centuries.
Application: Apply directly on location, use in a diffuser or inhale from the palm of your hands. Mix with a natural ointment to apply to wounds or take as a dietary supplement.
Best essential oils for acne
Lavender Oil
Lavender Oil (Lavendula augustifolia)
Botanical Family: Lamiaceae or Labiatae (mint)
Origin: Utah, Idaho, France, Bulgaria
Extraction Method: Steam distillation of flowering tops and stems.
It comes in especially handy for acne scars, burns, oily skin, for burns, bruises, cuts and scrapes, stretch marks, treating sunburn, hair loss, insomnia, depression and high blood pressure.
Using this oil undiluted is terrific IF IT IS TRUE THERAPEUTIC GRADE.
More properties and uses:
antiseptic
antifungal
antitumoral
vasodilating
Application: Apply a few drops neat, on location. Directly inhale or use in the diffuser before sleep.
Best essential oils for inflammation
Oil Of Wintergreen
Oil Of Wintergreen(Gaultheria procumbens)
Botanical Family: Ericaceae
Plant Origin: China, North America
Extraction Method: distilled from leaves and bark.
Therapeutic grade wintergreen essential oil contains 90+% Methyl Salicylate, also the active ingredient in Aspirin (although that is synthetically made)
Its fragrance is very stimulating and increases awareness and is also very attractive to kids so keep bottles out of their way!
How to use: Because of its highly anti-inflammatory properties this is the first essential oil I apply to painful areas of the body. Oil of wintergreen is great for back pain, arthritis pain, sciatica pain and nerve pain like PHN.
Historically the leaves from the wintergreen plant were chewed to prevent tooth decay but also increased respiratory capacity to improve stamina.
More Properties and Uses:
Anticoagulant – a blood thinner
antispasmodic – relaxes muscles
vasodilator – reduces blood pressure
Application: Dilute 1 drop of wintergreen to 2 drops of base oil and apply to location. Inhale or use in an electric essential oil diffuser.
Cautions: Should not be used if epileptic. Many books caution the use of methyl salicylate, precisely because it is now made synthetically and an isolated compound may be toxic to the body.
When using this highly therapeutic grade oil you will not only receive natural methyl salicylate, it is also buffered by another 10% of compounds to make its use much safer.
Reference: Essential Oil Desk Reference (Essential Science Publishing)
Best essential oils for killing germs
Oregano Essential Oil
Oregano Essential Oil (Origanum compactum)
Botanical Family:Lamiaceae or Labiatae (mint)
Origin: USA, France, Germany, Turkey
Extraction Method: Steam distilled from leaves

How to use: One of the most powerful anti-viral, anti-fungal, anti-parasitic and anti-bacterial oils around. So reserve a place for oregano oil in your medicine cabinet.
Because of it's high Carvacrol content (up to 75%), oregano can be a "hot" oil and should be used with caution. It is always advisable to have some vegetable oil around to dilute this oil.
Oregano essential oil is used in Raindrop Technique® where it is applied to the spine for immediate action on nerve endings, and it can be a great tool for healing infections.
More Properties and Uses:
arthritis and rheumatism
tuberculosis
digestive problems
killing germs
cooking with essential oils
Applications: Dilute 1 drop of oregano oil to 4 drops of base oil and massage on location. Use neat with caution. Diffuse. Can be taken internally.
Caution: Because oregano is high in phenols it may irritate nasal membranes and redden the skin. Use well diluted on children and do a patch test if you have sensitive skin.
There's been great news from the Young Living farm in Ecuador on the discovery of new oregano species that have a much lower carvacrol content. This may hold the future to gentle oregano uses. Check Gary
Best essential oils for headaches
Peppermint Essential Oil (Mentha piperita)
Another remedy for your first aid kit. I can't count the time's peppermint essential oil has saved me from headaches and nausea.
Botanical Family: Labiatae (mint)
Origin: North America, Mediterranean, Great Britain
Extraction Method: Steam distilled from leaves and stems
How to use: Sooooooo many! Peppermint is known for its excellent healing properties regarding the whole digestive system.
Think of that tract from start to finish and peppermint will help. It freshens the mouth, relieves acidity in the stomach, is an antispasmodic, so can help relieve stomach cramps, relieves heartburn, diarrhoea, flatulence, nausea. On the other end of the tract, it may be very helpful for haemorrhoids.
More Properties and Uses:
anti-inflammatory
antitumoral
antiparasitic (worms)
antibacterial, antiviral, antifungal
nerve pain
Peppermint curbs appetite! Great for use during weight loss. And all you need to do is inhale from cupped hands with a drop or two, about five times a day.
For the respiratory system peppermint, the essential oil is a great mucus reducer and thinner. Inhale or apply a drop to the tongue to improve coughing and sinusitis.
Peppermint can help to break a fever for children. Dilute four drops to eight drops of vegetable oil and apply to the bottom of their feet. Follow with a cool compress.
Caution: Avoid contact with the eyes. If applying a drop to the tongue use your pinky, you are less likely to rub your eye with that finger later on.
Don't apply to fresh wounds or burns or vaginal area undiluted.
Application: Apply 1 to 2 drop to the stomach area, abdomen, temples and behind the ears for headaches.
Use your diffuser and regular inhalation, especially for weight loss and cravings.
Dilute 1 part peppermint to 2 parts vegetable oil for applications with children and massage.
Place a drop on the tongue to stay alert in the car and freshen breath.
Peppermint oil is one of the most adulterated oils on the market. It is easily made in the lab or cut with synthetic substances to smell and taste like peppermint.
Best essential oils for energy, labor and focus
Rosemary Essential Oil
Rosemary essential oil greatly enhances mood and mental clarity. Wake up and smell the rosemary!
Botanical Family: Labiatae
Origin: Tunisia, Morocco, Spain
Extraction Method: Steam distilled from leaves.
How to use: Rosemary is a powerful essential oil both in its physical and mental action. Because of its high Eucalyptol content(38-55%), it is excellent for improving lung infections.
Its fragrance really influences the alertness of your brain. Take a whiff of this essential oil while studying for exams. One study showed it "positively affects math computations".
Historically rosemary oil was used as incense in ancient Greece and in later cultures burned to ward of devils. Eventually the sick burned it around the house to guard against infection.
You have heard of Thieves essential oil? Well here is one of its great ingredients. Use this favourite blend throughout the winter time to improve your immune system.
More properties and uses:
anti-tumoral – cancer
liver conditioning – hepatitis
antiparasitic – cleansing
hair loss – may improve alopecia areata
Caution: Rosemary has been contra-indicated for people with epilepsy and high blood pressure in many books. Do not use on children under four years of age.
Application: Dilute rosemary oil 50:50 with pure vegetable oil when applying to the skin or taking internally, meaning 1 drop of oil to 1 drop of vegetable oil. Directly inhale rosemary from cupped hands over the nose. Excellent in your Home Diffuser.
Best essential oils for men
Sandalwood Essential Oil
Sandalwood Essential Oil (Santalum album)
Promoting deep sleep and relaxation, sandalwood essential oil is the man's favourite oil.
Botanical Family: Santalaceae
Extraction Method: Steam distilled from wood
How to use: Sandalwood oil is right up there with Frankincense for bringing a person into a state of deep relaxation. Great for meditating, great for yoga.
It's a favourite fragrance for men. You're aftershaves and eau de toilette most likely have some sandalwood in them. Now you know which oil will replace those synthetic products.
AFTER SHAVE RECIPE: 4oz. spray bottle, fill with distilled water, add 10 drops of Sandalwood, 2 drops of Lavender and 1 drop of Peppermint. Shake and spritz. Irresistible.
Another oil high in Sesquiterpenes(say ses-kwee-ter-peens). These compounds have been studied over and over for their antitumoral qualities. Essential oil sandalwood is an immune system builder.
More Properties and Uses:
antitumoral
antiviral – Herpes simplex and zoster
calming and antiseptic – bronchitis, sore throat
immune stimulant – strengthens your system
Applications: Apply a few drops on location (behind the ears as a eau de toilette), inhale directly or use your diffuser, may be taken internally (GRAS oil- Generally Recognized As Safe for consumption by the FDA)
Best essential oils for meditation and massage
Sweet Orange Essential Oil
Sweet Orange Essential Oil(Citrus sinensis)
Sweet orange essential oil is known for reducing depression and making children happy and calm.
Origin: USA, Marocco, Italy, China
Extraction Method: cold pressed from the rind of the fruit
How to use: University studies have found that the fragrant influence of orange essential oil brings about relaxation, boosts immunity and reduces depression. A very happy oil.
As with other citrus oils, orange is very rich in limonene, a constituent that has been studied for its antitumoral properties. So I would personally incorporate it in any cancer treatment protocols.
Orange oil is excellent to add to massage oil as it helps with fluid retention and may be excellent for cellulite.
More Properties and Uses:
antitumoral
anticoagulant
antidepressant
for meditation
for massage
for nerve regeneration
Caution: As with all citrus oils you cannot use orange on your skin if you are going in the sun within 24 hours. Photosensitizing, which means it will discolour the skin.
Application: Apply a few drops neat on location, or to the bottom of the feet. Blend with massage oil for full body massage. Directly inhale from cupped hands or use your diffuser. Use as a dietary supplement by adding a drop to your glass of water or cup of tea.